---
Use the Scroll Bar on the Right to see more tweets by Michigan Avenue Elementary
---
Check out the new MAS Promotional Video below. We ARE MAS PROUD!!
---
---
---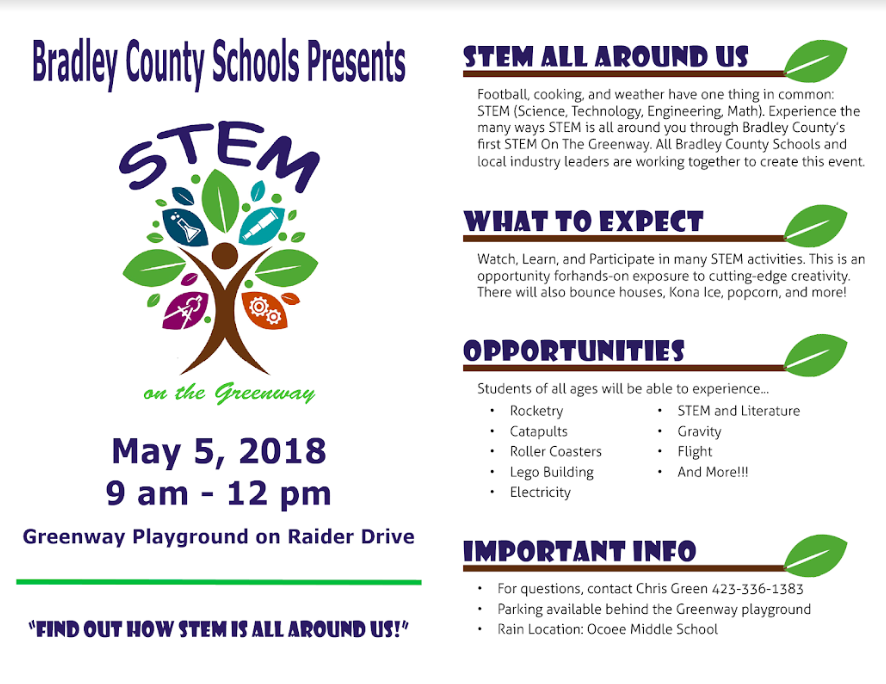 In the event of rain, the event will be moved to the Ocoee Middle School Gym. Michigan Avenue's very own Jak Kraft will be on stage at 10:00am with a Snap Circuit presentation followed by our Best Partner - Bayer with Regis the Real Scientist on stage at 10:15 making "Elephant Toothpaste"! Michigan Avenue Booth will have interactive Electricity Exhibits.
---
---
Attend School Today, Achieve Tomorrow. To view the new Bradley County Schools Attendance Policy, click here.
---
Breakfast is served from 7:05-7:30 AM.
Cafeteria closes at 7:30 AM for grades K-5.
K-5 Students should be in the gym by 7:35 AM.
---
For additional information, along with instructions for registering your child, please click here.
There have also been some changes to the Student Handbook regarding policies for the Cafeteria. Click the picture below to review the new information.
---
---
OUR GOAL IN THE AFTERNOON IS TO GET AS MANY CARS ONTO CAMPUS AS POSSIBLE, THUS ALLOWING TRAFFIC TO FLOW ON MICHIGAN AVENUE SCHOOL RD.
PLEASE WAIT TO MERGE UNTIL YOU ARE NEAR THE SCHOOL MAILBOX NOT THE BASKETBALL GOAL.
PLEASE HAVE CAR PICK-UP CARDS READY TO SHOW MRS. BEATY.
---
CARS MUST NOT BLOCK TRAFFIC ON BENTON PIKE!!
PLEASE PULL INTO THE PARKING LOT AND WAIT IF TRAFFIC IS BACKED UP.
PLEASE DRIVE AROUND THE WALKING TRAIL AND MAKE A DOUBLE LINE AS MUCH AS POSSIBLE.
PLEASE HAVE PICK-UP CARDS READY TO SHOW MR. FOX.
---
WANT TO STAY UP-TO-DATE?
USE THE SOCIAL MEDIA OUTLETS BELOW
---
NEED TO REGISTER FOR THE 2016-2017 SCHOOL YEAR?